Opera Solutions' Arnab Gupta explores the vast opportunities in Big Data on CNBC's "Squawk Box."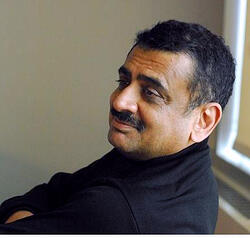 "The Big Data phenomenon is so vast, it can support 50 IBMs."
That was just one of the thought-provoking statements Opera Solutions' CEO, Arnab Gupta, made during his appearance on CNBC's "Squawk Box" as he spoke with hosts Andrew Ross Sorkin, Becky Quick, and Joe Kernen on April 24th.
Gupta said that Big Data is fueling a "fundamental shift" in the world that hasn't been seen since the advent of the Internet. As an example, he cited the global travel company that is using Opera Solutions' analytics and technology to better understand each customer's travel patterns and service experiences. This information is driving individualized marketing and service offers that are creating unprecedented levels of response and satisfaction. They're also using it to understand when a customer takes a rival airline for one leg of a trip, which allows them to develop programs to combat this missed revenue opportunity.
To illustrate how Big Data solutions can work in the financial sector, Gupta cited the work that Opera Solutions is doing for Morgan Stanley, such as a performance assessment platform that allows apples-to-apples comparisons of financial advisors with very different books of business, as well as peer-sourced recommendations for improving performance. This first-of-its-kind platform solves a thorny computation problem that requires massive, complex data integration and 25 billion calculations weekly.
He noted that these are the kinds of breakthroughs that are going to become increasingly common — the product of the intersection of more powerful analytics, better technology, and the availability of massive amounts of digitized, computable data. In particular, Gupta's excited about the potential of machine learning, which is a branch of artificial intelligence focused on developing algorithms that train computers to recognize patterns in very large datasets. "Bill Gates has said that a breakthrough in machine learning is worth ten Microsofts," Gupta said. It's a massive opportunity, which is one reason Opera Solutions has focused on creating a 230-strong cadre of the world's top machine learning scientists.
Gupta believes we're just at the cusp of the phenomenon and that much Big Data value is still lying dormant and hidden. "Most [companies] don't know how much data equity is resident in their data," he said. He added that Opera Solutions is helping many organizations find out.
Do you know the value is embedded in your data? Learn how to find out in our whitepaper.