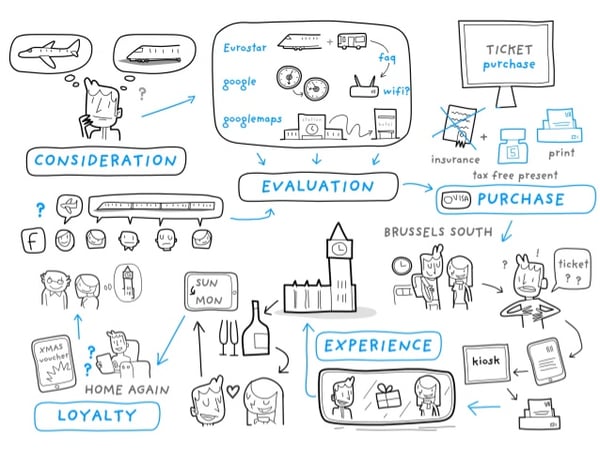 In the last five years, the amount of data in the world has grown exponentially. Domo's 'Data Never Sleeps 5.0 and 6.0' suggest that 90% of world's data was created between 2016 and 2017, and the numbers have not slowed down since then. Smartphone applications are now dominating customers' mindshare and Generation Z (those born from the mid-1990s to early 2000s) has not seen a world without computers and phones. As these younger consumers are added to the traveler mix, travel companies are now feeling the pressure to reimagine themselves in order to stay relevant amidst changing technology preferences. Travel company executives are asking: What are the key ingredients for reimagining personalization in travel?
Unique customer journeys for unique customers:
Customer engagement in the travel industry has become increasingly fragmented due to a proliferation of communication channels. Furthermore, customers are now using a mix of traditional channels (emails, websites, and call-centers) and advanced channels (smartphones, chatbots, and social media).
The classic customer journey (inspiration > shop > book > travel > post-travel) is no longer linear. Today, a customer shuttles between these various stages, jumping forward and circling back again, based on the data they are exposed to. For example: A customer who is extremely interested in a flight + hotel weekend package in Paris offered by a major airline, suddenly drops the idea based on a poor review, and instead selects a comparable package with a travel agency. Let's take another example: A customer who loves to thoroughly research her trips is dissuaded by persistent emailers that do not offer her the information she seeks.
It should come as little surprise that Google (based on analysis of its clickstream data) suggests that no two customer journeys are exactly alike; and that the shape of the marketing funnel is changing dynamically with customer intent. The evolution of the customer journey means that travel companies can no longer fit customers into the traditional marketing funnel mold, and instead, must focus on customer intent.
The unique nature of each customer's journey means that travel companies can no longer afford to generalize B2C personalization using a limited number of static personas. Each customer will make decisions differently; therefore, responses from travel companies should consider the unique journey of each customer.
Relevant is "in", timely will "win"
For many years, travel companies relied primarily on creative email campaigns to differentiate themselves from competitors. With the explosion of travel-related blogs, websites, and videos – email is no longer the most persuasive medium. If traditional emailers no longer inspire, what does? Today, inspiration is drawn from sources offering instant gratification, such as: extraordinary #nofilter photos on Instagram, the National Geographic's daily Snapchat story, or a backpacker's GoPro video on YouTube.
Furthermore, the travel experience itself has changed. Travelers are now looking for relevant and timely information at their fingertips. Booking.com suggests that travelers are more enthusiastic about real-time luggage tracking information than they are about many other advances in travel technology. One third of the surveyed travelers would want someone or something to do the hard work and make travel recommendations for them; and over half would be excited about travel innovations such as digital tour guides. These surveys explain the recent popularity of ready-to-use itineraries from companies such as TripIt and Google Trips. Meanwhile, companies like eDreams Odigeo are developing virtual travel assistants that can answer trip-related questions instantly, thereby enabling the delivery of relevant, timely information. Travel companies that can quickly adapt to these new expectations, can attempt to capture traveler mindshare and stay relevant in this rapidly changing landscape.
The best of both worlds: AI solutions can serve relevant, timely information that is unique to each customer
For travel companies, the challenge now is to provide the most relevant and timely information for each unique customer. This can be a tall order given the data deluge, dynamic customer journeys, and evolving customer expectations. Traditional 'next best action' engines for content recommendations are dominated by rule-based frameworks that are built on static customer personas. Today's dynamic customer journeys require practical AI solutions that are capable of creating personas as unique as the customers they define.
Practical AI solutions are extremely valuable, but they also represent a significant investment of time, money, and resources. Building a practical, scalable, and transformative AI solution requires: a team of data scientists, advanced knowledge of machine learning, the ability to wrangle large un/structured datasets, capacity for real time computing, and resources for generating ad hoc insights. Because of these challenges, many executives are looking outwards to companies that offer AIaaS (AI as a Service). With AIaaS, travel companies can configure custom solutions and test into their ecosystem. These practical AI solutions can help travel companies uncover hidden patterns of customer intent. The most important patterns are then utilized as triggers – serving the most relevant information to that particular customer.
In summary, AI solutions offer a compelling tool to help travel companies reimagine personalization:
Personalization in travel is moving away from a static world with broadly bucketed personas. Reimagining personalization within the context of newly available AI solutions… We see a world in which every customer has a unique persona, and only the most relevant information is served to the customer at the time it is most required.
Find out how Opera's practical, scalable, and transformative AI solutions are already redefining customer intent for major travel client's worldwide.