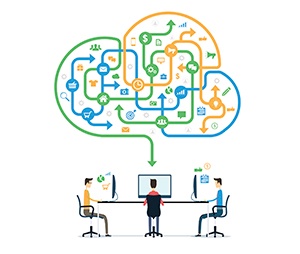 In our new podcast series, The Data-Driven CMO, Opera Solutions Senior Vice President John Kelly interviews Julie Cary, CMO of La Quinta Inns and Suites, who has developed a strong reputation as both a traditional and digital marketer in her dde-long tenure with the company. She discusses the steps taken to integrate Big Data and data science into La Quinta's everyday marketing operations.
Julie shares how she balanced marketing, technology, data science, and IT and secured the necessary budgets to develop a robust digital marketing environment with tangible marketing results.
1. Connect the dots by consolidating all your data
Getting a company's data in one place may sound like a no-brainer, but for many, this first hurdle is often an insurmountable roadblock. Julie remarks in regard to La Quinta, "Not only was data trapped in different parts of our company, it was also trapped with vendors, as we've been a company that outsources a lot of things. And getting data into one place is the first big challenge to being able to look at experiences of your customers across different touchpoints, as well as connecting it to, in our case, the property level, profits, etc."
Simply asking for the data doesn't exactly solve the problem. "For us, it wasn't people hoarding data or not wanting to share it. Our challenge has been with technology and resources — putting disparate data together in a way that is easy to control and using the right tools to manipulate and make sense of the data." She explains, "We have data at the customer level and the hotel level, but those dots don't connect easily. You really need to have the right structure and tools to be able to do that."
Connecting the dots is harder than it seems. Conflating multiple forms of data sets (structured and unstructured), which likely exist in both modern and legacy systems and have differing purposes, is the challenge to which Julie's referring. Normalizing and cleansing data that was intended to serve different groups to produce the right information to whomever needs it requires a sophisticated platform that can absorb and blend large amounts of structured and unstructured data from various sources.
2. Use past insights to help predict the future
This is not a new concept, but it's always a little eye-opening for companies that are just beginning their Big Data movement. Julie had to look at past results and insights from La Quinta's data to demonstrate the value data provides and then tie those results in with the technology disruption that's currently happening — especially in travel and hospitality. These provided a deeper understanding of customer needs, enabling her to justify the business case and attain buy-in from her C-suite partners.
3. Share your vision with IT
Getting the green light isn't enough. You also need to excite and motivate your company about your vision. "You have to get people fired up with a vision of what things could be and make it come to life with personas and people and use cases and showing those use cases in more real-life forms," Julie says.
Use cases paint the picture of what's possible, and they are your best way to strengthen your working relationship with your IT group and its leadership (CIO and/or CTO).
Julie explains, "Our CIO and myself are definitely good business partners. Getting him to be part of that vision, getting him excited about it, him bringing new ideas and being part of our ideations was critical to him helping get the organization excited about things. So those partnerships have to be first, because if IT isn't excited about it, no one else is going to be excited about it." IT leaders and staff can make or break a Big Data initiative, so they're your most important business partners.
4. Brainstorm with data on-hand
Data can be the fuel for ideation. Julie states, "Our data told us that a lot of customers on our mobile site were booking a room within four hours of arriving at the hotel. Booking on a mobile phone — with your name, address, phone number, and 16-digit credit card — was incredibly cumbersome." Thus, the idea of Instant Hold was born for La Quinta properties, letting a customer hold a room for up to four hours using only their phone number.
By collaborating with and including creative people and data-driven individuals in the process, Julie pushed these ideas forward and even invited customers to work alongside team members. She injected data-driven thinking into the creative process to help bring out a different set of ideas than what typically come from a traditional creative process.
5. Back it up with a business case
Involve finance early to help articulate the business need and establish your key performance metrics. Regardless of your company's process, your success criteria is closely tied to P&L. "
For an idea or a goal that is less measureable, you may need to look at competitive advantage gained by moving forward — or disadvantage if you don't. This is a harder sell, and it depends on what you're trying to solve. Julie explains, "I've been in situations where I can just say 'Trust me' and others where I can say 'No, we can directly measure this, and this is the amount of increase we need, and this is the ROI.'"
6. Infuse Big Data into the culture
To get all the benefits Big Data has to offer, you need to have a Big Data culture, which can be a challenge. Julie says to start at the top. "You have to have your CEO on board, first and foremost, assuming your CIO is already on board. Then you need your CFO. If you're an operations type of business like we are, your chief operating officer has to be on board as well, because it involves their execution and affects operations." One reason you need so much buy-in from the top is because Big Data is still perceived as a risky investment. This mindset must come from the top down, so the CEO's backing is paramount. Julie explains the need for people who can think about what can be vs. what is and those who are curious, creative thinkers and are data-driven.
7. Don't think you have to do it alone
Given the difficulty in finding and hiring the right people, as well as navigating the multitude of technologies, Julie has found solace in knowing she and her company can rely on external business partners to help fill the gaps in their workforce. "We've relied on vendor partners … that have great talent in their companies that can help us." It's also critical to implement technology that not only fits in with existing infrastructure but actually realizes the business impact within a desired timeframe and validates your investments.
Julie's interview is just one in a series that discusses the data and technology challenges CMOs face every day. Addressing CMOs' data-related challenges and opportunities is something Opera Solutions has a great deal of experience with. In fact, we built a platform that helps CMOs and other business leaders extract key insights, or Signals, from their disparate data.
Listen to the Data-Driven CMO: Pain and Progress with Julie Cary Podcast.
To learn more about how to leverage these insights for your marketing operations, download our white paper, "Personalized Marking at Scale."


Sarah Anderson is the marketing director at Opera Solutions.