---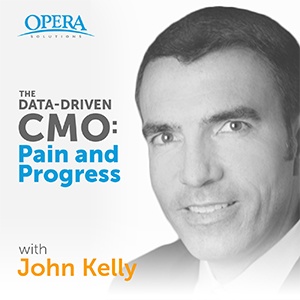 Opera Solutions is pleased to announce its new podcast series, the Data-Driven CMO. With an increasing focus on technology and Big Data, the marketing profession must rapidly learn how to use such technologies as predictive analytics, machine learning, and artificial intelligence.
At Opera Solutions, we have helped several global companies transform their marketing using our predictive analytics software. However, technology and products are only part of the story, and we wanted to bring the organizational and human perspective on this transformative shift to light. Our new podcast series opens the discourse through direct conversations with some of the most technically adept marketing leaders.
Hosted by Senior Vice President John Kelly, the Data-Driven CMO focuses on the pains and resultant progress that chief marketing officers at leading enterprises encounter today. From data overwhelm to a steep marketing tech learning curve, CMOs and marketers are training new muscles and joining forces with the CIO and IT department to achieve their corporate growth targets.
The series starts off with three interviews with some of the more digitally oriented marketing leaders in the country.
Julie Cary, CMO of La Quinta Inns and Suites, offers peer CMOs and other marketing innovators a great deal of applied perspective with respect to overcoming digital challenges.
Chris Hummel, CMO of United Rentals, a Fortune 500 company, shares how his experience in navigating the technical waters that are increasingly part of every CMO's charter.
Jennifer Dominiquini, CMO of BBVA Compass, a top-25 bank in the US with over $65 billion in total assets, talks about how retail banks can acquire and retain customers when armed with the data to do so.
Each podcast is 20 to 30 minutes long and easily digestible. Subscribe on iTunes or SoundCloud or listen from our Knowledge Base (filter by "Podcasts").

Sarah Anderson is the marketing director at Opera Solutions.