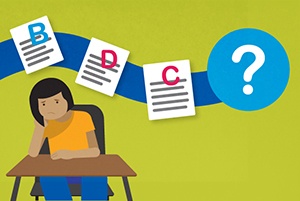 Signals empower us to predict the future by learning from the past.
We all learn from the past. So if you failed a mathematics exam in school, you learned you had to study harder not to fail the next one. Events that happened in the past can be measured in many different ways. Measuring a past event puts it into focus. In data mining, this process translates into creating a descriptive feature to describe or tell a story about the past in some way, shape, or form.
We call these descriptive features Signals. Signals are the indicators extracted from raw data that have proven to be valuable for solving a particular problem. Signals can also be created from other Signals by transforming one piece of information into something more meaningful or interesting. For example, using the initial Signal extracted from raw data — in this case, a test score — we can create several Signals that capture past school performance in mathematics and science for a certain student.