The New 1:1 Marketing Approach in Four (Not-So-Easy) Steps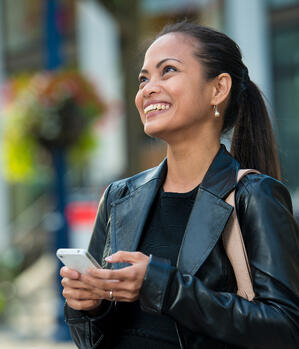 The concept of 1:1 marketing generated a lot of hype — ten years ago. It changed the way companies reached their customers, creating that illusion that personalized marketing was actually… well, personal. But it also raised expectations of customers. They became acutely aware that their actions — especially those online — were tracked and used for marketing purposes. Eventually, they ignored companies' attempts to advertise based on a search term or status update. "Really? Just because I posted that I'm baking cookies with my son does not mean I want to buy Chips Ahoy right now."
The realization of true 1:1 marketing involves a two-way conversation with your customers that helps you achieve four major goals:
Deepen customer insight

Engage customers when they want to be engaged

Ensure cross-channel consistency

Establish always-on communication
If you have millions of customers, you'll need some serious Big Data assistance to accomplish these goals. Big Data science can play a substantial role in fostering the relationships you need in order to make — and keep — your customers happy. You can transform the conversation from a one-way, one-time marketing campaign to a two-way, long-term dialogue with each and every customer.
Each of these four Big Data steps plays a role in helping you achieve the ultimate long-term dialog with your customers:
Get to know your data and its variables. You may have warehouses full of data or a large data set in a Hadoop cluster, but this data isn't ready to be used as-is. The data needs to move through an analysis process that allows you to determine what data variables are present and which ones are valuable to the business and will move you toward the goals listed above. For instance, to deepen customer insight, you need to identify all of the predictive elements and patterns available for each customer, including variables derived from data of various departments, channels, and possibly even partners.

Establish which variables are predictive and make them available in a format that can be accessed across business functions and for use by your own analysts. Once you know you have the data necessary to achieve those key marketing goals, you need to be able to identify which variables have impact on the consumer relationship. This step requires advanced science and predictive analytics. These variables are truly the Signals important to your business. Depending on your product or service and how you interact with the consumer, Signals can vary by industry and by function.

Being able to identify the predictive Signals within Big Data flows and make them available in a manageable process is critical to ensure you are monitoring and reacting to the customer dialog that is contained in your daily data flow from your systems and third parties. You also need to implement a manageable system that lets you respond quickly to changes in market conditions. If a competitor has a promotion, the process for extracting the Signals that alert you to the promotion needs to be repeatable and scalable to truly achieve a dialog that responds to the environmental changes your current customers are experiencing.

Establish normative behavior and leverage science to alert you to changes. You need to be able to monitor changes in a predictive fashion, so your organization has time to prepare and respond. One of the challenges to 1:1 marketing is the lack of sophistication in the response you provide based on a just-in-time event. While these events are impactful in certain situations, many more start out as data anomalies before they develop into a trend that reaches statistical significance.

By monitoring changes over time, you can ensure your reactions are better aligned with what is happening with the customer. This type of monitoring is more proactive and can allow you to handle some situations before a need for a real-time response system becomes a necessity. For example, if complaints are trending up about a specific product over time, you can assess the reasons and take corrective action before it reaches a systemic level, avoiding the need for crisis management.

You can't achieve the goals listed above without first establishing patterns in your customers' normative behavior. Once you do, you can then be proactive in your adjustments, stopping negative trends in their tracks and seizing opportunities precisely when your customer is ready.

Integrate this system with existing customer management processes. Now that you have a system in place, you should start looking for ways to build on your existing science capability. Expansion of the application of science into more of your current platform tools, such as campaign management systems, customer relationship systems, and call center support systems, will drive innovation and build the foundation for an ongoing dialog with your customers. Your staff will be empowered, and your company as a whole will be able to respond to many market changes even before the customer or competition knows a change is taking place.
While integrating advanced science and predictive analytics into marketing best practices may sound too good to be true (and possibly a little overwhelming), it is absolutely possible — and necessary — to establish that coveted long-term dialogue with your customers, which in turn leads to the holy grail of marketing: directed actions, delivered in real time, to managers, customer service reps, and other frontline personnel, ensuring they say or do exactly the right thing, at the right time, and though the right channel, with every customer you have.
If your company doesn't employ the data scientists and analysts required to accomplish your goals, don't worry. Opera Solutions has 230 machine learning data scientists, plus domain-specific business analysts to work through the steps listed here, with implementation that takes months, not years. We offer all this in the form of the Consumer Signal Hub, a preset, domain-specific collection of Signals — and the technology required to continually extract and deliver them —to organizations just like yours. That is, organizations that have a lot of data but are missing the scientists necessary to turn that data into value. Opera Solutions' Consumer Signal Hub can generate — and capture — the years-long conversations between you and your customers, so you can achieve that holy grail of directed actions.
There's a lot more to learn. Learn how the Opera Solutions Consumer Signal Hub can help improve your marketing efforts in our white paper, "Retailing: Increasing Revenue and Profit with Advanced Analytics."
Like this post? There's more where that came from! Check out these other posts that focus on marketing and personalization:
The Key to Making Big Data Valuable: Make It Personal
The Realization of Personalized Marketing
Increase Revenue and Improve Business Strategy with Retail Analytics