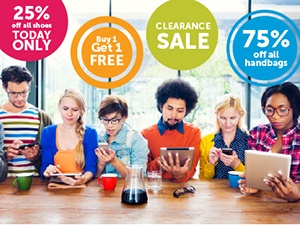 What's the big deal about Millennials? For starters, they're now the biggest demographic in America. But their needs are unlike any generation before them. Here's what retailers must know to succeed in marketing to this 80-million–strong population.
Millennials are now the largest living generation in the United States, according to the US Census Bureau. Defined loosely as those born from the early 80s to the early 2000s, Millennials account for roughly 25% of the US population at 83.1 million, exceeding the 75.4 million Baby Boomers in the country. They grew up with household computers, cell phones, and myriad other forms of technology, and they entered the work force during the Great Recession, which has made them price-conscious, tech-savvy shoppers — and robust savers. About half of them still live at home, and they've taken over the work force. While most are holding off on marriage, nearly 40% have children and 9% live with domestic partners, indicating that they're starting families and establishing households (i.e. shopping and spending). Perhaps the most telling stats come from a study from FutureCast, which says that Millennials' purchases are most influenced by their social circles and that they're the first generation to influence older generations.
This presents the common pairing of challenge and opportunity for retailers to win over Millennials, allowing retailers to capture the $200 billion Millennials are expected to spend each year, as well as the $125 billion to be spent by Gen Xers and the $3.2 trillion to be spent by Baby Boomers, both of whom are influenced by the trends Millennials set. To capture this opportunity, retailers need to understand what makes Millennials tick.
How Millennials Shop

Over the last few years, we have seen that Millennials shop in noticeably different ways. According to a 2015 study by Synchrony Financial, 62% of them respond to offers sent to their mobile devices compared with just 39% of Baby Boomers. In addition, 82% of Millennials are influenced through word-of-mouth for their purchasing decisions compared with just 52% of Boomers, making Millennials more susceptible to social and 1:1 marketing. This orchestration of trends makes Millennial consumers a prime target for digital marketing, with a focus on social media.
On the flip side, they hit the job market just as it was crumbling around them, making Millennials much more price-sensitive than Baby Boomers, who are known for their high spending, and Gen Xers, who have money to spend but are often forgotten or ignored by marketers because of their low population numbers. Combine the two traits, and you get price-sensitive shoppers who use a variety of technology when they shop. They download coupon apps, do price comparisons while standing in the aisle, snap up flash-sale discounts, and join membership programs for long-term savings.
So how do all these trends impact retailers? If we break it down, we can see how much a single US consumer would spend over nine years in each of the age groups below on just apparel and services:
Total Spend/Profit in Apparel & Services by Average US Consumer













Source: Bureau of Labor Statistics (sales) and Opera Solutions Analysis (gross profit)
We see that an apparel retailer that forges a lifetime relationship with a customer will achieve a customer lifetime value (CLV), or profit, of $42,000 over the course of the relationship. Certain brands, such as H&M, can target $18,000 in CLV for customers they can hold onto from age 25 to 44.
Unfortunately, most retailers aren't attracting consumers in the 25–34 age group. Millennials see themselves as unique, and their desire for instant gratification goes well beyond "likes." In fact, their desire to feel special — immediately — greatly shapes their shopping experience in that they expect it to be tailored to them, and they have no problem abandoning brands that don't make the effort.
Despite advances in customer targeting, there is a large gap between what Millennials expect and what the marketplace provides. This is especially true with digital offerings: According to a 2016 study of retail consumer research, although 49% of Millennials want real-time promotions such as flash sales, only 7% of retailers have the technology and infrastructure in place to offer them. That same study shows that 43% of Millennials want the ability to automatically credit coupons and discounts, but only 16% of retailers can provide it. This gap has allowed new players to woo Millennial consumers with customized shopping experiences that include real-time promotions. To stay competitive, retailers need to shift their focus to the Millennial needs and draw the urgent lessons of mass personalization that will shape the market in the coming decades.

Closing the gap: how to give Millennials' the personalized experience they expect

While the concept of personalization is straightforward, for millions of customers and the retailers that sell to them, it can be prohibitively complex. But thanks to a healthy trail of digital exhaust left by Millennials (and others), retailers can gather, clean, and analyze data from disparate sources and then use machine learning to create and leverage insights derived to create highly granular customer segments and push personalized marketing throughout its customer base.
The first thing retailers need to do is think like a Millennial, which is to say, stop thinking of them as a target market of 83.1 million that needs to be broken into segments. Instead, think of one Millennial and how he or she makes purchasing decisions. Identify specific needs and wants by looking at behavioral patterns. We call these patterns need states. And they're different than traditional marketing segments for a number of reasons:
1. They're smaller. Instead of dividing millions of people into dozens of segments, you're analyzing the behavior of just one person and grouping them with those who have similar behavior, creating thousands of clusters.
2. They're more fluid. Segments are typically based on demographics that rarely change, such as gender, race, or geography. Because need states are based on behavior, they can change over time, and the people within each can change as well. A consumer may be part of a need state one day, but not part of it the next, depending on changing patterns in their behavior.
3. One person can belong to several need states. Everyone wears multiple hats — a businessman is also a dad and maybe a fisherman. As each person wears a different hat, he is playing into a different need state.
Need states

— the foundation for mass personalization
Need state clustering is a new powerful approach that enables contextual and dynamic personalized marketing, but it is also much more complex. Because need states are based on behavior, they need to learn from behavioral changes and adapt accordingly. This requires machine learning, and it works best when built into a comprehensive analytics platform that can quickly assess the changes in behavior patterns and adjust the output, or recommendations, for how to personalize to each customer. And because it continuously evaluates its own performance, it continues to learn. Therefore, the longer the platform runs, the more accurate it becomes, enabling more personalized shopping experiences that get more efficient as a retailer scales.
Opera Solutions combines retail expertise with machine learning innovation
With Big Data technology enabling mass storage and the analysis of behavior-driven data streams, we can now analyze various customers more precisely and adjust their classifications dynamically. Better yet, with predictive analytics, marketers can rely on machine learning models that are constantly adjusting to each customer's need states.
Imagine doing that at scale — not with thousands of customers, but 84 million. This is exactly what our product, Signal Hub, delivered for a top-10 US retailer. What started as a data science exercise targeting Millennials quickly expanded to other customer clusters, improving the overall customer experience across the board — and more important — generating the desired business results: an uptick in revenue and more trips to the store.
The retailer's ability to deliver highly personalized marketing allowed it to send precise offers to individual customers at the optimum time and through the optimum channel, which triggered shopping events. In addition, its ability to understand each customer's Aspirational Value and wallet share helped marketing executives develop deeper strategies to increase loyalty.
The vast amount of customer data and enormous quantity of offer permutations, combined with newfound insights into channels and need states may sound unmanageable for human-based processes. The innovation for Signal Hub came from the need to scale data science and distribute its capabilities company-wide, resulting in hundreds of millions of dollars in annual revenue increases and significant margin improvements. It was put together and deployed within six months, and now, a Signal Layer serves as the technology foundation for all things related to customer analytics.
Perhaps Millennials' need for intimate personalization was the impetus of this customer's embrace of data science, or perhaps it was strong foresight on behalf of the management team. Regardless of the driving reason, retailers must embrace Millennials and their shopping habits and continue their work in trying to understand this highly influential — and highly profitable — segment of the population.
To learn how to market to Millennials — and to all your customers — better using Signal Hub, download our white paper, "Personalized Marketing at Scale."


Sarah Anderson is the marketing director at Opera Solutions.
Nicholas Wetherbee also contributed to this story.